I am "borrowing" this article to pay tribute to
HILLARY RODHAM CLINTON...
the most amazing woman in America.
THANK YOU HILLARY!
By
SARAH PARNASS
(
@wordsofsarah
) and
DANA HUGHES
(
@dana_hughes
)
Dec. 23, 2012
(Thank you Sarah and Dana for writing this story.)
After 31 years of public service, Secretary of State Hillary Clinton leaves the limelight behind.
On Friday, President Obama nominated Sen. John Kerry, D-Mass., to take her place as secretary of state, leaving Clinton to help him move in and then bow out.
Over the past
three decades
, Clinton has served her country in one way or another, a tenure that was full of firsts.
She was the only first lady to refuse the traditional cookie bake off and the first secretary of state to visit more than 100 countries. She served under the first black president and was the first first lady to have an office in the West Wing of the White House. Clinton was the first secretary of state to visit East Timor, and the first first lady to later win elective office. And long before she ever appeared on a ballot, Clinton was the first child born to Hugh and Dorothy Rodham.
"It's important for me to step off this incredibly high wire I've been on," Clinton said after casting her ballot in
November's presidential election,
"to take stock of the rest of my life."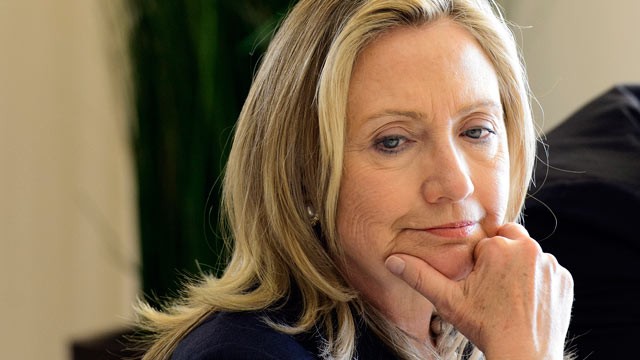 Laurent Gillieron/AFP/Getty Images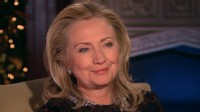 photo from Barbara Walters special
Barbara Walters
she's looking forward to taking a step back, "maybe do some reading and writing and speaking and teaching."
In October, she took the blame for State Department security failures that led to the death of four Americans, including Ambassador Christopher Stevens, in Benghazi, Libya. It was a move that signaled a willingness to put politics aside and embrace responsibility.
I take responsibility,"
Clinton said
a month after the attack in an interview in Lima, Peru. "I'm in charge of the State Department's 60,000-plus people all over the world, 275 posts.
"The president and the vice president wouldn't be knowledgeable about specific decisions that are made by security professionals," Clinton said, a clear attempt to absolve a president who was up for re-election of blame with little regard for her own popularity.
At the end of November, Clinton reflected on her accomplishments as secretary of state over the past four years in two wide-ranging speeches on foreign policy.
Her four years of work focused on advancing rights for women and religious minorities across the globe, helping to maintain the tenuous peace between Israelis and Palestinians, discouraging Iran from obtaining nuclear weapons and, in her own words, "advancing a new approach to development that puts human dignity and self-sufficiency at the heart of our efforts."
Clinton reflected on her travels to more than 112 countries, calling it "
shoe-leather diplomacy
," and emphasizing the importance of being on the ground.
"I have found it highly ironic that, in today's world, when we can be anywhere virtually, more than ever people want us to show up, actually," she said at the Newseum in Washington, D.C. "Somebody said to me the other day, 'I look at your travel schedule. Why Togo? Why the Cook Islands?' No secretary of state had ever been to Togo before. Togo happens to be on the U.N. Security Council. Going there, making the personal investment, has a real strategic purpose."
Though Clinton took political heat this year for her role in the Benghazi attack, her global colleagues joked and prodded her about a second presidential run at each increment of her long-term farewell. The popular Democrat continues to deny she'll run.
Clinton leaves office on
a new high
in personal popularity and broad approval of her work as secretary of state.
A Washington Post/ABC News poll released Dec. 6 shows 57 percent of participants saying they'd back a run by Clinton to succeed President Obama.
Asked about his wife's Oval Office ambitions last April, Bill Clinton said he would be happy either way.
"If she comes home and we do this foundation stuff the rest of our lives, I'll be happy. If she changes her mind and decides to run, I'll be happy," the former president said. "But that's light-years away."
He said he thought Hillary was being honest when she said she would not run again, but "it's entirely up to her."
"I want her to do what she wants to do," Clinton said. "I'm glad she's comin' home, I miss her. We have fun together."
Clinton has traveled almost 1 million miles and spent 401 days of her four years traveling, according to the State Department.
Her last weeks in office have not reflected the prolific nature of her travels throughout her tenure.
A case of the flu and a bad concussion
kept Secretary Clinton ground-bound, forcing her to cancel a trip to the Middle East and
preventing her from testifying
about
a report
to Congress about the State Department's failure to provide adequate security in Benghazi.
Clinton released a statement on Friday thanking her staff and congratulating Sen. John Kerry.
"The men and women of the State Department and USAID represent the best traditions of a bold and generous nation. They serve and sacrifice every day, often in dangerous circumstances. It has been one of the great honors of my life to serve with such fine public servants over the past four years. I could not be prouder of all we have achieved together," Clinton wrote in the statement. "They deserve the highest caliber leadership, and that is exactly what they'll get in John Kerry."
We are ready....just in case she changes her mind!